I feel like I've had a lot of essay-length posts lately. I guess I just have a lot to say. Tonight's entry is going to be one of the shortest posts yet, because I'm getting back on a plane tomorrow and I want to spend some time with the Boo before I leave.

We've had about three awake/sober hours together this week and I'm getting all anxious about being away from him for the weekend. I know how pathetic that sounds but when you're used to spending all your free time with one person…well, a weekend away can be a little anxiety-inducing.

On the other hand, it can be a good thing. After all, I could do worse than a long weekend in LA and Laguna Beach with a bunch of girlfriends.

Before I go, I just want to run this by all the wedding lovers out there. My girlfriend recently got engaged and is seriously considering wearing this dress.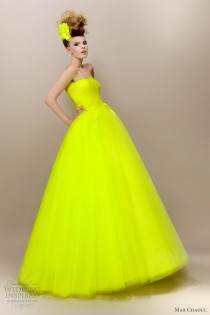 via
I adore it. It's like the prom queen did battle with a tennis ball machine.
I just feel like I keep seeing the same wedding dresses over and over again, and the exciting anticipation of seeing the bride as she appears at the top of the aisle has lost some of its luster.
Alright. Project X is on tv which means I've got to go continue planning my own future wedding.